Page 7 of 7 •
1, 2, 3, 4, 5, 6, 7
"Crap, he got away," Renji said angrily.
"Hey, you guys okay?" Kazuma yelled from the hallway.
"Yeah, but he gave us the slip."
"Don't worry, I'll go after him," Kamiko said as she began to walk towards the door. "Wait, how are you gonna-"
"Like I said, you and Kazuma had your fun. It's my turn now," she interrupted. Kamiko balled the hand she punched Zaku with into a fist, which had small splotches of his blood on it. She took a quick sniff, licked it, and a devious smirk began to slowly cross her face.
"Besides...," she began to say as she turned back to Renji before leaving; even through the mist, still heavy and blinding despite slowly dissipating, Renji saw her eyes glowing a blood red.
"...I've got his scent."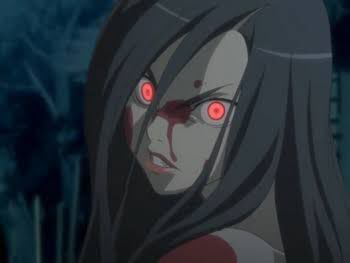 "Aw geez," sighed Tora as he walked through the misty hallway, "is it to much to ask for a quiet night?"



Posts

: 300


Join date

: 2012-03-04


Location

: Riding a cloud



Kamiko made a mad dash through the hallway,hot on Zaku's scent, and pushing past the captain. "Outta the way, old man!" She said in a seemingly low growl, swatting him out the way and into the wall.

"Don't tell me what just happened, just happened..." Kazuma said to Renji as he found the room they were set up in.
"Okay, I won't. But I THINK we should follow her, before 'Queen Crimson' trailblaze a violent path."

"Kamiko already has a headstart. How are we going to catch up to her?"

"Follow the blood..?" Renji shrugs with a half smirk
"Renji..." Kazuma replied in a warning tone. "OK,OK,you're right; not a good time for jokes..."

Kazuma groans in frustration. "Cmon, Let's just be done with this mission already."

Zaku heard foot steps running behind him. "What the heck?!" he thought, "Surely those brats haven't found me already." As the mist cleared Zaku stopped and turned around towards Kamiko. He activated his communicator, "I repeat, initiate plan B. I'm re-engaging the brats." Zaku glared at the girl as she approached him. "You're the one who gave that other brat an opening to burn me," he said to her, "I'll make this painful."
Admin




Posts

: 381


Join date

: 2012-02-06


Location

: Under your bed



"Right back at ya!!" exclaimed Kamiko, as she leapt toward and threw a punch aimed at Zaku's face.
Page 7 of 7 •
1, 2, 3, 4, 5, 6, 7
Similar topics
---
Permissions in this forum:
You
cannot
reply to topics in this forum