Hey guys, I'm not sure who is familiar with forum based role playing so I'll explain.  Feel free to skip this paragraph if you've done something like this before.  Basically we'll be collaborating to create a story, this particular one is an alternate Naruto universe which I'll descibe in the next paragraph. However, we won't be tossing around ideas for characters and plots and stuff like you would normally do with a story.  We will be role playing the story.  Each of you will create your own shinobi and start off as a genin.  I'll pretty much be role playing (Rping) as all the other characters in the world, but basically the story is driven by our decisions.  Each person will determine what their character does and says by typing out their actions and dialogue as if wrighting a story.  But you will be limited to your character.  The actions of other characters, as well as their physical, mental, and verbal responses to your character, will be determined by the person who is Rping them.  Hopefully that makes sense.  If not, feel free to ask me any questions either by posting here or contacting me via phone, fb, etc.  Now that the basic instructions are out of the way, let's get to the fun part.
As stated above, each of you will create your own character and start as a genin.  Before you just start Rping, I need you to submit an application for your character.  An application is just the information about your character that I require.  The application template is below.  Just copy and paste the template and then add your character's information. Once I approve the application then you're good to go. One thing I always prefer to do with Rps like this is to use images.  Images just help with the story because they make it a lot easier to visualize things.  With that said, I am requireing that each of you find a picture somewhere on the internet to represent your character.  I've provided several resources below but feel free to find them any way you can.  If you don't know how to post pictures a long with your application then just post the URL.  Read the next paragraph before making your application.
This story takes place 30 years after the Shinobi World War.  Many of the original characters are still alive, but quite a few died since the Fourth Shinobi World War. Naruto did become Hokage, but unfortunately, he was killed in a major battle after only being Hokage for about 3 years.  Konohamaru Sarutobi is now the current and 7th Hokage.  That is pretty much all you need to know to get started.  Please delete the items in parenthesis before submitting your application.  They are only there to direct you.
Resources
Character Image Resources:
http://narutooriginals.wikia.com/wiki/Category:Original_Character
https://www.google.com/search?q=Genin+Oc&client=firefox-a&hs=3uG&rls=org.mozilla:en-US:official&channel=sb&source=lnms&tbm=isch&sa=X&ei=UgxxU6zdC8-ryATZjILgCQ&ved=0CAgQ_AUoAQ
http://www.deviantart.com/morelikethis/304760376
Rank D Ninjutsu:
http://naruto.wikia.com/wiki/Special:BrowseData/Jutsu?limit=100&offset=0&_cat=Jutsu&Jutsu_rank=D
Rank C Ninjutsu:
http://naruto.wikia.com/wiki/Special:BrowseData/Jutsu?Jutsu_classification=Ninjutsu&Jutsu_rank=C
Character Name (First and last):
Character Age (12-14):
Character Gender (male or female):
Chakra Nature (fire,water,wind,earth,or lightning):
Height (feet/inches):
Weight (pounds):
Short Backstory (just give us a little info):
List of Jutsu (maximum of 10. Must be rank C or D. Rank E jutsu are possessed by everyone and don't need to be listed)
Image (either post the picture itself or just the URL)
Last edited by The Administrator on Sat Aug 22, 2015 4:19 pm; edited 5 times in total
Character Name: Raiku Zari
Character Age: 25
Character Gender: Male
Chakra Nature: Lightning
Height: 6'0
Weight: 159
Short Backstory: Raiku Zari is a jonin level shinobi of Konohagakure (Hidden Leaf Village).  Raiku has been raised by a single mother ever since he lost his father at a young age.  His father was killed in a major battle which also resulted in the death of Naruto Uzumaki, the 6th Hokage.  Since he entered the academy, Raiku showed exceptional skills as a shinobi and became a jonin at the early age of 16.  Raiku is now the leader of Squad 5, aka Team Raiku.
List of Jutsu:  Because he is a jonin and I'm not limiting him to the same as genin, I will simply post his 10 main jutsu.
1. Chidori
2. Chidori Senbon
3. Chidori Sharp Spear
4. Chidori Stream
5. Lightning Style: Electric Needle Spark
6. Lightning Style Armour
7. Summoning Jutsu
8. Teleportation Jutsu
9. Shadow Clone Jutsu
10. Ninja Art: Thunder Dragon Tornado
Image:
Naruto Wiki:
http://naruto.wikia.com/wiki/Narutopedia
Last edited by The Administrator on Thu May 22, 2014 10:21 pm; edited 4 times in total
Character Name: Ryan Kasai
Character Age: 14
Character Gender: Male
Chakra Nature: Fire
Height: 5'7
Weight: 120
Short Backstory: Ryan Kasai is the a unique teen in the Hidden Leaf.  He's actually one of only 10 kids in the entire village who rollerblades as a hobbie. He was the class clown at the academy, making a name for himself.  His fiery attitude along with his fire style ninjutsu got him the nickname "Spit Fire."  Due to his silly and comical nature, the Hokage felt he needed more discipline and placed him in team Raiku, along with
blank
and Kaori.
List of Jutsu: Will be added later
Image: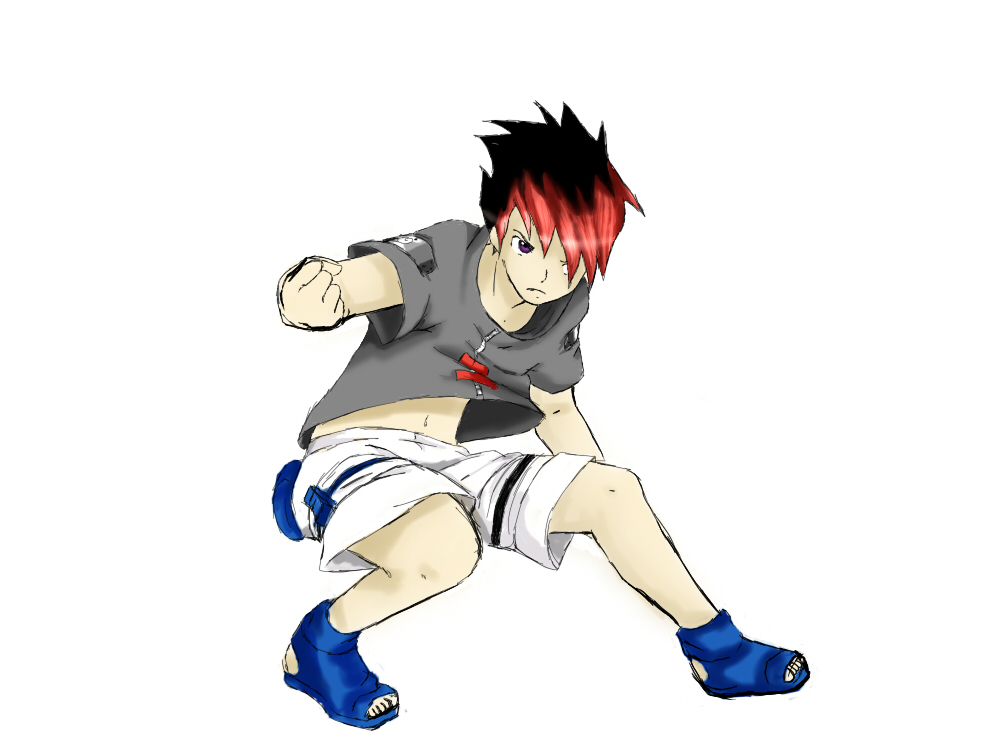 Posts

: 49


Join date

: 2012-03-04



This will be the female for Squad 5.
Character Name: Kaori Yamanaka
Character Age: 14
Character Gender: Female
Chakra Nature: Wind
Height: 5'5
Weight: 123
Short Backstory: Kaori is a member of the Leaf Village's Yamanaka clan.  Kaori developed a very tomboyish personality, having grown up with all male siblings, cousins and mostly male neighbors.  She is also skilled in various Yamanaka exclusive jutsu which her father taught her at a young age.  Upon graduating from the academy, she was determined to be the most skilled kunoichi ever and to be respected by her male teammates and sensei.
List of Jutsu:
(1) Ninja Art: Mind Transfer Jutsu
(2) Wind Style: Great Breakthrough
(3) Mind Distraction Jutsu
(4) Mind Body Transmission Jutsu
Image:
Last edited by The Administrator on Thu May 22, 2014 10:01 pm; edited 2 times in total
Character Name: Mugen Kakusu-Ken
Character Age: 14
Character Gender: Male
Chakra Nature: Lightning
Height: 5'9"
Weight: 130
Short Backstory: Mugen's family was originally from the Cloud but he was born in the Leaf. When he was young, his parents died in battle leaving him in the care of his older sister. He known as an outcast because of his family but soon made himself known by his skills with knives and his father's short sword. he even went as far as learning marksmanship in his spare time. Mugen was competitive, sarcastic, some times hotheaded, yet laid back preferring to kick back and read books on his down time.
List of Jutsu: being a weapons specialist Mugen preferred using Taijutsu but also mixed middle ranged jutsu.
1:Lightning Ball
2:Chidori Sword
3:Fangs of Lightning
4:Lightning Dragon Tornado
5:Chidori Sharp Spear
6:Rising Bomber
7:Lightning Release Armour
8:Shadow Clones
Image



Posts

: 300


Join date

: 2012-03-04


Location

: Riding a cloud



Character name: Kazuma Ryuuga
Character age: 17
Character height: 5' 10"
Character weight: 160 lbs.
Chakra nature: Fire, lightning
Growing up wasn't easy for this young shinobi. Kazuma's parents died during an S-class mission when he was just a boy, rendering him an orphan. He was then adopted by a swordsman named Mifune after he found the boy wreaking havoc, mischief, and getting into fights in a town near Konohakagure. Mifune taught him self-control, discipline, and a special sword technique only taught to a very rare few. Kazuma decides to enroll in the ninja academy in the leaf village and graduated as the top 3 genin in his class because of his special jonin-level skills. Usually laid back, calm, and prude, he's been known to be a shallow blunt jerk that doesn't care for things that do not affect him directly, preferring to be a "neutral party" and does things his own way; he hates conflicts, but won't hesitate to dish out a beating. Because of his mixture of ninja and swordsman training, he's practically a weapons expert, earning the nickname "X Blade", but prefers to be a defensive fighter. Kazuma's an exceptional tactician and close combat fighter, excelling in mainly taijustu and genjustu; although he can learn numerous amounts of ninjustu styles, Ryuuga specialized in fire and lightning style techniques, but uses ninjustu only if deemed necessary.
Justu:
• Fireball Justu
• Mist servant justu
• Multi-shadow clone justu
• Fangs of lightning
• Fire Dragon Flame Bullet
• Phoenix Flower
• Rising Dragon Technique
• Crescent Moon Dance
• Shadow of the Dancing Leaf
• Yagu Shinkage-ryu (Deadly Sword Technique)
• Secret Technique: Doragonhantā (ドラゴンハンター "Dragon Hunter")



Posts

: 345


Join date

: 2014-06-28


Age

: 25


Location

: The fires of Mordor



Character Name: Taka Uchiha
Character Age: 13
Character Gender: Female
Chakra Nature: Fire & Lightning
Height: 5'6"
Weight: 125
Short Backstory: Taka grew up in one of the Uchiha secret hideouts to protect the new bloodline with her two older brothers. although she was the youngest out of the three Taka pushed herself to be as good or better then her brothers. She was always the calm and collected type but from time to time shows a caring nature toward animals and nature itself. As news of the Akatsuki's return spread, she was ordered by her father, Sasuke Uchiha, to go to the leaf village where she was placed in squad 5 by the hokage.
List of Jutsu:
1:Fire Release: Dragon Fire Technique
2:Fire Release: Great Dragon Fire Technique
3:Fire Release: Great Fireball Technique
4:Fire Release: Great Flame Flower
5:Fire Release: Phoenix Sage Fire Technique
6:Chidori
7:Chidori Katana
8:Genjutsu: Sharingan
9:Summoning Technique (Hawk, Snake)
10:Strong Fist



Posts

: 300


Join date

: 2012-03-04


Location

: Riding a cloud



From now on you guys can just post the picture, name, age, and description of your character. Don't worry about all the extra stuff but do post new characters here so I can transfer them to the correct location.
Similar topics
---
Permissions in this forum:
You
cannot
reply to topics in this forum